Unlock Your Growth Potential: A Small and Medium-sized Business Guide to Cloud Migration with Amazon Web Services (AWS)
Published on 11 Oct 2023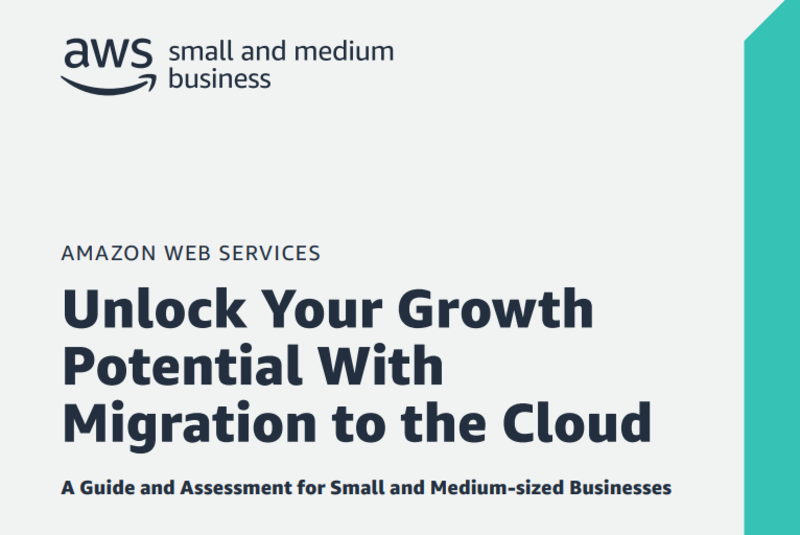 Unlocking the growth potential of your small or medium-sized business begins with embracing the power of cloud migration. This eBook is designed to assist decision-makers like you in understanding the myriad benefits of migrating your data and applications to the cloud. Embarking on this path will unveil the reasons behind businesses of all sizes shifting from traditional on-premises data centers to the cloud, how this transition can bring a revolution to your operations, and when the opportune moment arises to take this step.
In this comprehensive guide, you will learn the fundamentals of cloud migration, including the limitations of on-premises and collocated data centers, the scalability and cost savings the cloud offers, and how to assess your readiness for migration. We'll delve into the crucial steps required to get started with your cloud migration, ensuring a smooth and efficient transition. Additionally, you'll gain insights into why Amazon Web Services (AWS) stands out as a preferred choice for small and medium-sized businesses looking to harness the full potential of the cloud.
Limitations of On-premises and Collocated Data Centers
As your business grows and relies increasingly on data, managing an aging on-premises or collocated data center can become an arduous task. Outdated infrastructure strains your capital expenditure budget, remote work adds complexity, and ensuring data security and reliability becomes a constant challenge. The constraints of an on-premises data center may already be impacting your ability to support key business objectives. The burden of managing aging infrastructure often stifles innovation and competitiveness. Small and medium-sized businesses must optimize IT resources to differentiate themselves through applications tailored to their unique needs.
Scalability and Savings for Your Business
Small and medium-sized businesses are increasingly adopting flexible IT solutions to stay agile in responding to customer demands and reduce operational costs. Cloud computing plays a crucial role in driving this transformation. It offers cost-efficiency by allowing companies to transition to a pay-as-you-go model, optimizes resource utilization through automation, enhances workforce productivity with reliable remote access, and provides improved security and business continuity measures. As a result, cloud adoption has become a top priority for businesses, delivering an average cost savings of 31%.
Getting Started With the Cloud Migration
Successful cloud migration involves several key steps. It begins with selecting the right cloud provider that aligns with your business's unique needs, focusing on differentiation, security, experience, innovation, and support. Once you've made the right choice, the next step is to assess the total cost of ownership (TCO) using assessment tools. This evaluation helps you justify the migration by calculating workload costs and potential savings. Collaborating with experienced system integrators simplifies the process, reduces complexity, and effectively manages risks. Mobilization is a critical phase where you address any gaps identified during the assessment. This involves developing a Proof of Concept (PoC) and ensuring your team receives the necessary training and support. Finally, the migration itself begins with a two-fold approach: start with minimal changes to quickly move workloads to the cloud, and then gradually transition to cloud-native technologies for long-term efficiency gains.
Migrating to the cloud is a long-term investment that enhances your business's agility, reduces costs, and fosters innovation. By leveraging cloud-native technologies, you can continually optimize and reduce expenses over time.
Fast and Cost-effective Migration With Amazon Web Services (AWS)
Amazon Web Services (AWS) stands out as the industry leader in cloud computing with over a million active customers worldwide and a global presence dating back to 2006. With AWS, you can migrate any workload to the cloud, benefit from real cost savings, ensure top-notch security, and access scalable and reliable infrastructure.
AWS provides several key advantages. It leads to an average cost savings of 31%, with free tools available for assessing workload costs and measuring migration return on investment. AWS offers a robust security infrastructure, resulting in fewer security incidents and reduced downtime. The service also provides scalability by dynamically adjusting capacity, ensuring resources are always available when needed. AWS makes extensive investments in global availability zones, redundant networks, and business continuity frameworks, ensuring high reliability. Additionally, AWS offers various partner programs, training resources, and expert support to enhance IT performance. Migrating to AWS allows you to embrace innovation, reduce operational costs, and stay competitive in a rapidly evolving business landscape.
Conclusion
This eBook empowers small and medium-sized businesses to unlock their growth potential through cloud migration. It explores why the cloud is essential, addressing the limitations of on-premises data centers and highlighting the scalability and cost savings of cloud adoption. The guide outlines crucial steps to initiate a smooth migration process, emphasizing Amazon Web Services (AWS) as the preferred choice. AWS offers average cost savings of 31%, robust security, scalability, and reliability. Migrating to AWS enables businesses to reduce costs, embrace innovation, and stay competitive in today's dynamic landscape.