Simoco Velocity IoT Platform set to Pave the way for Mining 4.0
Published on 19 Apr 2023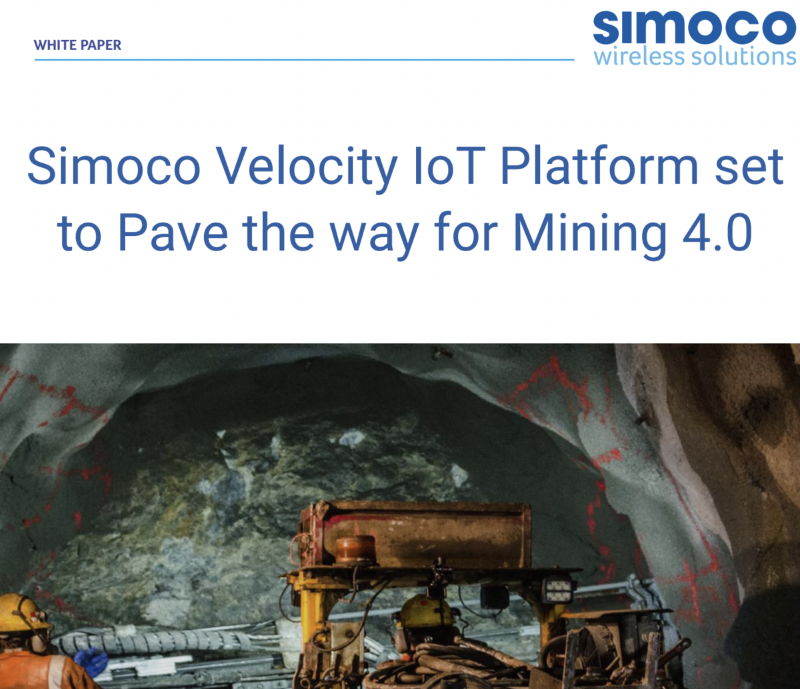 Artificial intelligence (AI), robots, and the Internet of Things (IoT) have ushered in a new age of digital transformation for the mining industry, which aims to reduce operational expenses and increase worker safety. In this white paper, we'll discuss some of the advantages that this may provide and the role that Velocity and other intelligent communications systems can play in making those advantages a reality.
The Posing Challenge
Increased use of autonomous vehicles, predictive maintenance of underground and surface machinery to reduce outages, and the use of real-time data and analytics powered by machine learning (ML) will help managers make better decisions in day-to-day operations, long-term planning and safety incidents as part of the so-called Mining 4.0 revolution.
These adjustments will result in a significant upgrade in technology for a sector that has relied heavily on two-way mobile radio as its primary investment in mission-critical communications up until now. However, a mine is not the kind of business that can be shut down for a few days while upgrading to new systems, nor is it a place to take a chance on cutting-edge technology.
The benefits of mining 4.0 promises significant safety and cost savings, but these benefits may only be realized gradually. Benefits may be seen at every step of the process when current technologies, such as mobile radio, are used to obtain real-time data from the mine.
Since mines are inherently dangerous places where conditions constantly change, any new technology must depend on wireless connections. Ethernet or fiber optic cable can sometimes be easily run into a mine. However, the primary wireless technology of today, two-way mobile radio, needs to provide more bandwidth for these emerging uses. In this day and age, underground workers are not about to give up their portable radios.
A solution is required that makes use of mobile radio while also providing a road map to cutting-edge wireless applications that can take advantage of multiple connectivity types, including narrow band (as in mobile radio) and broadband (video, location mapping, real-time data gathering, and other smart technologies). This technology must also be able to analyze data locally to serve as a reliable link to Mining 4.0.
The Velocity solution from Simoco provides this vital link to the future by combining a wide variety of connection methods with onboard intelligence provided by an Edge computer, all in a small, sturdy form factor made specifically for challenging, mission-critical settings.
What exactly are the benefits of mining?
The mining industry has its version of the "Fourth Industrial Revolution," known as the "digital mine" or Mining 4.0. Better planning and operational efficiency may be achieved via various technologies and applications, from using augmented reality to developing digital twins of the mine.
The development of self-driving machinery and enhanced safety guarantees have opened the door to other, more practical uses. Despite this, the mining industry is far less technologically advanced than other sectors, with statistics from BCG's Digital Acceleration Index (DAI) suggesting a gap of up to 40 percent. It's not hard to see why mindsets are shifting, and Mining 4.0 is rapidly becoming a reality when considering the advantages digital transformation may bring.
Download Simoco Wireless Solution's whitepaper to learn more about Simoco Velocity IoT Platform set to Pave the way for Mining 4.0 only on Whitepapers Online.