The Business Value of AWS Data Lakes, Analytics, and ML Services
Published on 29 Oct 2022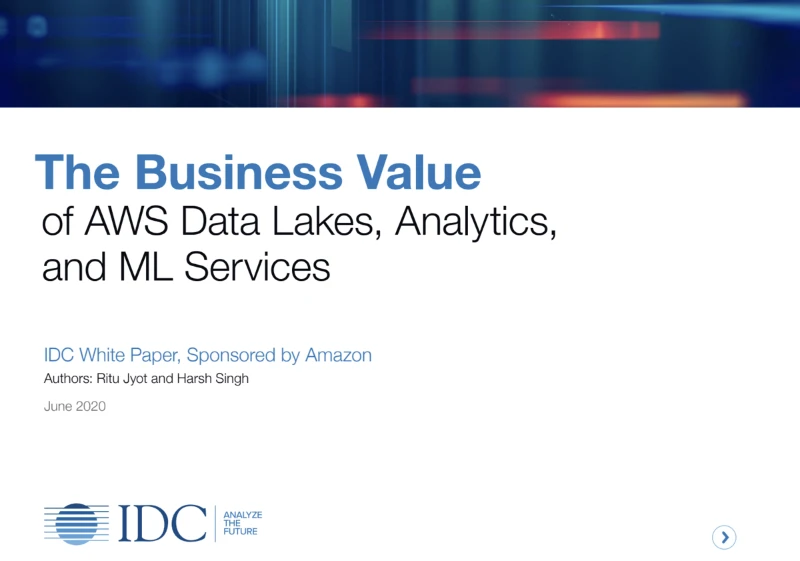 According to IDC, by 2022, more than 46% of global GDP will be digitized, with growth driven by digitally improved services, processes, and partnerships in every sector.
Successful digital transformation is dependent on transforming data into actionable insights, and this growing reliance on data-powered insights is helping to usher in a new era of the data age. Every organization's data is quickly becoming a strategic asset. Businesses demand more value from their data, which is more diversified and expanding at an exponential rate. Analytics and artificial intelligence/machine learning (AI/ML) capabilities that are utilized by many users inside a company will help these digital transformation (DX) activities.
Businesses have traditionally employed siloed data warehouses (for example, one for ERP systems and another for sensor and social media data) as repository of integrated data from one or more disparate sources, as well as a system for reporting and data analysis for various groups. However, since conventional data warehousing (DW) systems do not scale, enterprises are increasingly shifting to data lake designs, which expand or enhance classic DW, store any data in any format, are durable and accessible, and can grow to exabytes in size. Furthermore, organizations want data lake infrastructures that are safe, compliant, and auditable, and that can run any form of analytics and machine learning applications.
AWS delivers open, secure, scalable, and cost-effective infrastructure that allows easy-to-build data lakes and analytics to satisfy these shifting client needs. Businesses may utilize the appropriate technology for the task without having to migrate or modify data for various analytics methodologies. AWS offers a complete collection of capabilities that extends beyond typical security functions like encryption and access control to proactive monitoring and unified security policy management.
IDC interviewed 11 firms who employ AWS data lakes, analytics, and machine learning services to confirm the advantages of the AWS solution. According on the survey data received and applied to IDC's Business Value model, study participants are gaining substantial value from AWS. According to IDC, study participants will profit from an average yearly benefit of $6.15 million per company ($100.4K per business application), resulting in a five-year return on investment (ROI) of 415% by:
Providing enterprises with data lakes, analytics, and machine learning services that are flexible, scalable, cost-effective, and high-performing.

Reducing the amount of time spent managing and supporting data lakes, analytics, and machine learning activities

Increasing the efficiency of analytics teams by improving access to data and analytical tools

Allowing enterprises to perform more analytics queries while decreasing the time necessary to complete each inquiry
Overview of AWS Data Lakes, Analytics, and Machine Learning Services
AWS provides an integrated array of services that may help you establish and manage a data lake for analytics fast and efficiently. Data lakes powered by AWS can manage the volume, agility, and flexibility necessary to mix various kinds of data and analytical methodologies to generate deeper insights. AWS provides users with a comprehensive range of analytics and machine learning services enabling quick access to all essential data while maintaining security and control.
To achieve the proper insights and answers, modern analytics involves a variety of analytics methodologies, including data warehousing, Big Data processing, ETL, BI, streaming analytics, and operational analytics. Developers construct analytics programs in a range of languages, including R, Scala, and Python, depending on which are most suited for their individual use cases. The Jupyter Notebook, a free, open source, interactive online application that enables developers to create and share documents with live code, equations, visualizations, and narrative prose, has grown in popularity in recent years. This quick adoption has been supported by a passionate user-developer community and a revamped architecture that enables the notebook to speak dozens of programming languages.
Data cleansing and transformation, numerical simulation, statistical modeling, data visualization, machine learning, and many more applications are possible. AWS offers a robust collection of analytics services that operate against the open data lake, allowing organizations to utilize the correct tool for the job without having to migrate or modify data for each analytics method. AWS offers a complete collection of capabilities that extends beyond typical security functions like encryption and access control to proactive monitoring and unified security policy management.
AWS offers a variety of alternatives for transferring data to the cloud, including batch/bulk on-premises data migration and real-time data movement. Once data is ready for the cloud, Amazon S3 and Amazon Glacier make it simple to store data in any format, securely, and at vast scale. Amazon S3 is a safe, scalable, and long-lasting object storage service. Amazon Glacier is a web service that offers online file storage for data preservation and backup. AWS Glue automatically provides a single catalog that customers can search and query to help them find the appropriate data to utilize in their investigation.
AWS provides a wide range of low-cost analytic services that operate on the data lake. Each analytic service is designed specifically for a variety of analytics use cases, including interactive analysis, Big Data processing using Apache Spark and Hadoop, data warehousing, real-time analytics, operational analytics, dashboards, and visualizations. These services are designed to function in tandem to provide a unified analytics experience.
Download IDC's whitepaper to learn more about AWS Data Analytics Machine Learning Whitepaper pdf only on Whitepapers Online.