Mayhem to Mastery: iion ends its HR challenges with Keka
Published on 10 Jun 2023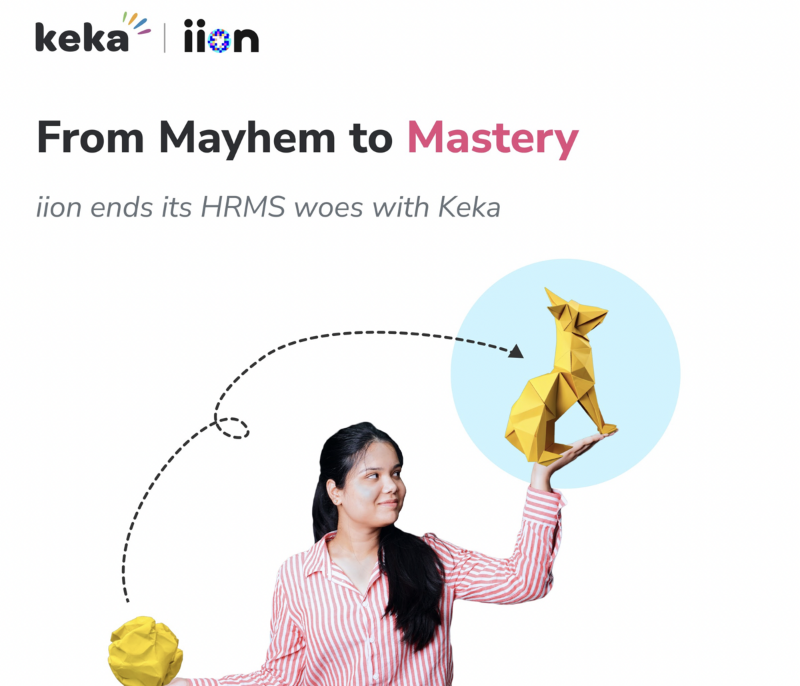 iion is a growing tool for ads and making money in-game settings. Its goal is to reach different types of audiences. With more than 50 workers and eight offices worldwide, iion is proud to be a group of eager and flexible ad tech professionals who prioritize human contacts and face-to-face interactions.
In this HR case study, we'll delve into how Keka helped iion with effective hiring, seamless employee onboarding, and efficient leave management.
The Mistake with Leave Data
While iion was looking for new ways to grow and its workers focused on reaching their goals, a new problem got in their work. It was found that the information about workers' leaves needed to be corrected. The People and Culture Head at iion, Belemir Hncal, looked into the company's HRMS and found that everyone's leave information must be clarified. She and her team fixed the problem after two months.
Keka's Key Metrics for Hiring People Who Work Well
Ullas said that they used LinkedIn to find and attract bright people when they had trouble finding people. The thought was used to evaluate and rank candidates, but these tasks had to be done by hand. One thing they liked about Keka was that it could put everything on one platform, which made all processes easier.
The Last Straw and Looking for a New HRMS
Even though much time was spent trying to fix the leave data problem, it happened repeatedly. Belemir said that sometimes workers needed help opening their leave balance page, which made it hard for them to see the labels and request time off. Customer service could have responded better, and they still needed to figure out what was wrong. This made iion decide that they needed to change their HRMS.
Employee Onboarding That Is Easy and Smooth
Ullas said Keka is much easier and more efficient than their old HRMS. It makes the hiring and offboarding processes easier and eliminates the need for multiple options to be revised. With Keka, iion can now do all these things on a single platform without any trouble. Some things that have made iion's onboarding process easier are user-defined access to employee papers and pre-training and onboarding steps that run from beginning to end.
Thanks to Keka, iion can combine profiles from different platforms, such as their website's job page, which saves the team a lot of time. Keka's report on source-wise sales gives employees the information they need to improve their channels and put their efforts where they will succeed most.
The partnership between Keka and iion yielded remarkable results. The automated processes significantly reduced administrative overhead, allowing the HR department to focus on strategic initiatives. Employee satisfaction and engagement improved, as the self-service capabilities of Keka's software empowered employees to manage their own HR-related tasks efficiently. The enhanced accuracy of attendance and leave records minimized payroll errors, leading to cost savings for iion.
Download Keka's whitepaper to learn more about how Keka helped iion with their HR challenges only on Whitepapers Online.